Sugar mills start cajoling farmers after suffering sugar cane shortage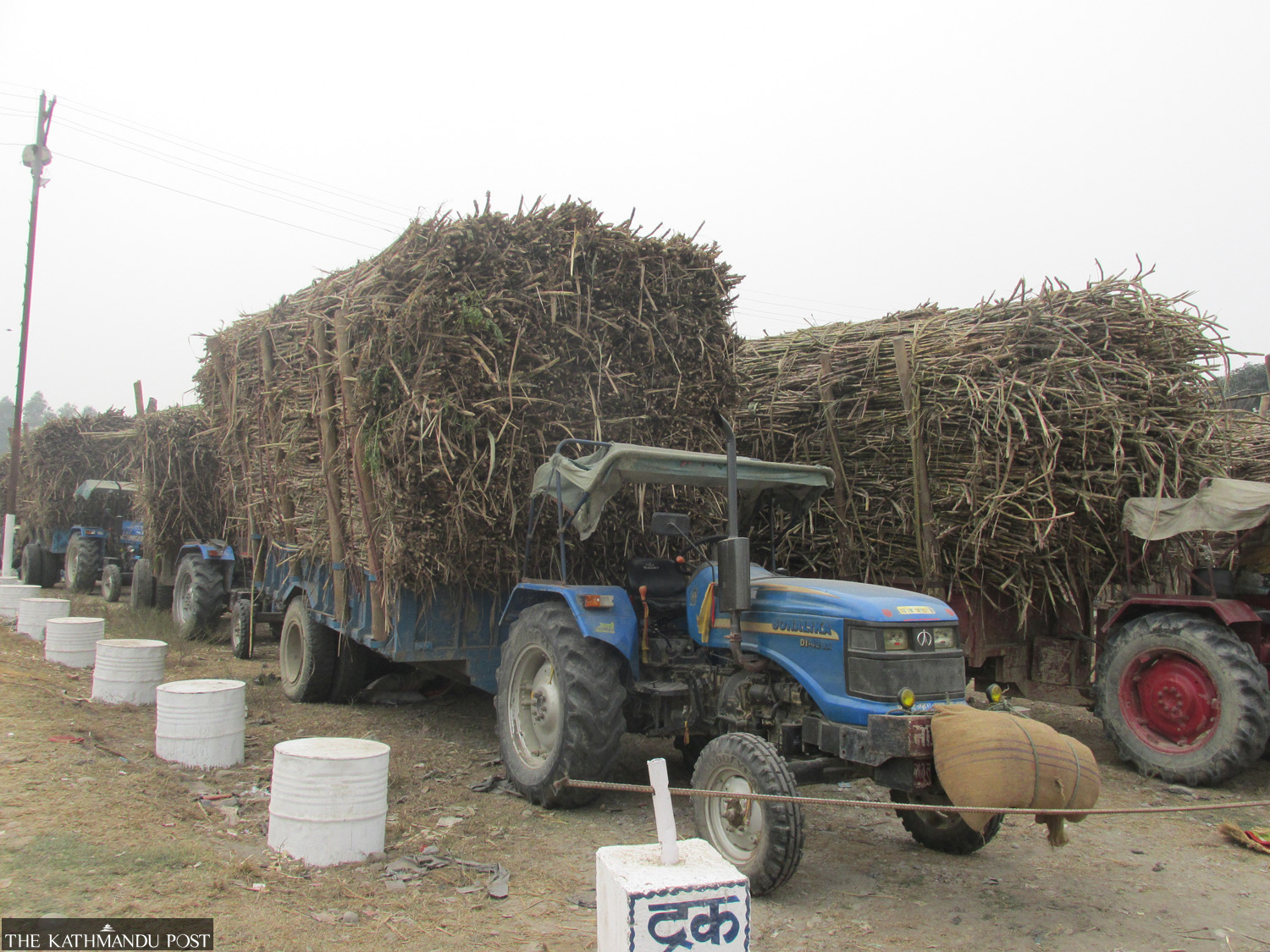 Tired of having to beg for their money from non-paying sugar mills every year, Rautahat's sugarcane growers began to switch to other crops, which led to a sharp drop in production.
The first victim of the resulting raw material shortage was Baba Baijunath Sugar Mill, which announced that it was closing before the end of the grinding season.
Reports of sugar factories in the Tarai plains delaying payment to farmers for their crops regularly appear in the media. Sugar cane growers have even staged protests to make their case. The frustrated farmers of Rautahat decided enough was enough.
Baba Baijunath Sugar Mill, the district's only sugar mill, said it was closing a month and a half before the end of the milling season because it ran out of cane.
The plant located in the municipality of Katahariya, has a capacity to crush 2,000 tons of sugar cane in one season or 20 tons per day. But this year the factory was forced to shut down early after crushing just 600 tons of sugar cane.
Usually, the crushing season starts in February and lasts until mid-May.
Kapil Muni Mainali, president of the Federation of Sugar Cane Producers Associations, said the 10 sugar mills operating across the country have been forced to close due to lack of sugar cane.
Mainali said the cultivation of sugarcane, once a popular cash crop for many farmers in the southern Tarai region, has started to shift to other crops as it is not getting good yields. Many farmers have to sell their harvest on credit.
"Additionally, the government and factory owners are working together to set the minimum support price for sugar cane," Mainali said.
The price of sugarcane has not increased since 2005, but the price of sugar has climbed to Rs90 per kg from Rs62 in the past three years.
Baiju Babara, the owner of Baba Baijunath Sugar Mill, said they had to close the factory as sugar cane production in the district had dropped this year.
"The mill remained in operation until the end of April. Since there was no sugar cane, we decided to close the factory a month and a half earlier," he said.
Another sugar factory in Rautahat district, Shree Ram Sugar Mill, has been closed for a year. It went bankrupt after paying 350 million rupees to sugar cane growers for their crops which had gone unpaid since 2014.
The factory was opened in 1992 and purchased sugarcane from farmers in Bara, Parsa and Rautahat. It had a crushing capacity of 300,000 tons of sugarcane in a single season.
Babara said his sugar mill was running at a loss. Baba Baijunath Sugar Mill went into operation on December 30 last year.
"We had set a target of crushing 2,000 tons of sugar cane, but we did not get more than 600 tons. It's difficult to run the factory this way," he said.
Sugar cane cultivation in the eastern districts of Tarai has been in decline for six years after many sugar factories stopped paying farmers on time.
About 18,000 farmers grew sugarcane until about six or seven years ago. The number of farmers has fallen to 6,000, according to the Rautahat Sugar Cane Growers Association.
As the number of sugarcane growers is steadily decreasing, Baba Baijunath Sugar Mill is trying to woo them with various facilities. He has already paid the farmers for their cane this season, according to Mainali.
The factory said it issued invoices to farmers and launched an advance payment scheme. "He also provided farmers with seeds and fertilizers," said Ashok Jaiswal, chairman of the Sugar Cane Growers Association, Rautahat.
The mill recently handed over a cane harvester, a modern machine, to farmers.
Baffled by the drop in sugarcane production, mill owners visited farmers to encourage them to plant sugarcane by offering different schemes, the farmers said.
Jaiswal is optimistic that more farmers will plant sugarcane in the coming years. "In the past, farmers had difficulty getting their payment. So they stopped planting sugar cane," he said.
Mainali said farmers have become more willing to cultivate sugar cane. "The result will be visible in the future. The combined production of all sugar mills in the country amounted to 120,000 tonnes from this year's harvest," he said.
"Nepal's annual sugar requirement is 350,000 tonnes," he said. "Sugar production has fallen by more than 50%."