Smuggled sugar imports seriously harm the domestic sugar industry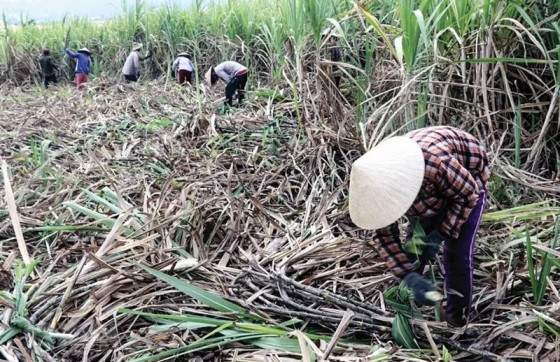 According to the association, in previous years, smuggled sugar in large quantities at low prices from Thailand has seriously affected the domestic industry.
Prior to the implementation of the ATIGA (ASEAN Trade in Goods Agreement), Vietnam had 41 sugar factories which created jobs for 350,000 cane-growing households. In 2020, there was a "super storm" of Thai imports, 1.3 million tons, an increase of 420%.
During the 2020-2021 harvest, Vietnam's total sugarcane imports were just 700,000 tons, the lowest level in the past 19 years. During this year's production season, only 25 sugar mills are still operational, while the other 16 mills have closed. Of the 25 factories in operation, 17 reported losses.
As a result, 3,300 industrial workers lost their jobs and more than 100,000 sugarcane-growing households had to switch to other crops. The sugarcane cultivation area has been greatly reduced as the incomes are not high enough to sustain the farmers.
Due to Covid-19 in 2020-2021 and strict control in border areas, smuggling decreased and sugarcane prices remained stable. However, as soon as the pandemic was brought under control and control in border areas was relaxed, smuggling increased again.
"The sugar industry is once again in danger of being wiped out if sugar smuggling and commercial fraud cannot be addressed," VSSA said.
Since December 2021, smuggling activities have resumed in the southwestern border area.
On the market, contraband sugar distribution networks operate in the open. The sugar is packed in 12 kilogram and 1 kilogram bags.
Contraband sugar is cheap because it is not subject to a 47.64% trade tax like full-rate imports. Currently, smuggled refined white sugar costs between 16,400 and 16,800 VND per kilogram, much less than domestic brown sugar.
VSSA said smuggling poses a serious threat to the sustainability of the sugarcane chain as sugar mills must operate at a moderate level or cease operations.
The last sugar cane harvest is over, but many sugar mills cannot sell their products and have not paid farmers.
Although agencies have taken steps to prevent smuggling, commercial fraud continues.
VSSA requested the head of the Party committee, the speaker of the National Assembly and the prime minister to take urgent measures to solve the problem and to order the appropriate forces in the border areas of Laos and Cambodia to strengthen control to fight smuggling.
Tam An