Fickell recalls Sugar Bowl against Arkansas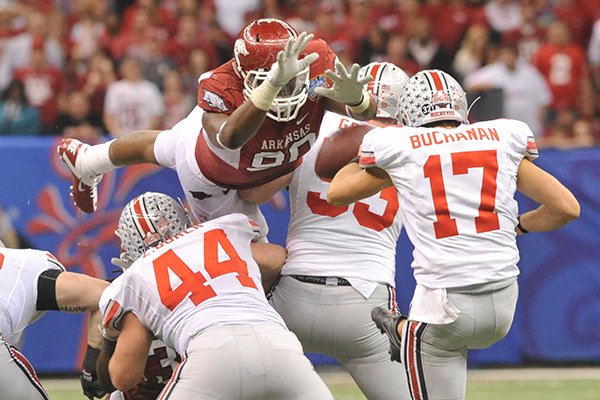 Posted: Wednesday August 31st 2022
Cincinnati coach Luke Fickell, assistant coach of the Ohio State team that faced Arkansas in the Sugar Bowl after the 2010 season, was asked what he remembered from that game on Tuesday.
"All I remember is we had about a left corner left on the bench and we blocked a punt with about a minute left in the game," Fickell recalled of the Buckeyes win 31-26 at New Orleans. "We called full pressure and dropped the end of the boundary, a kid from Cincinnati, Ohio, and he took it off and finished the game for us."
Fickell was referring to defensive end Solomon Thomas, who fell into coverage and intercepted Ryan Mallett's pass intended for DJ Williams with 58 seconds left in the game. Arkansas recovered the ball from Ohio State 18.
The Buckeyes led 28-7 in the second quarter and held off a big comeback effort from the Razorbacks.
"I remember we left a call-up sheet somewhere that somehow ended up in the hands of the opposing team," Fickell said. "It was not planted. It was one of those things that was unique. I think one of our GAs left it in Burger King.
Ohio State later vacated the Sugar Bowl victory, 11 other wins, and the Big Ten title of the 2010 season due to players receiving benefits deemed inappropriate by the NCAA at the time. Coach Jim Tressel also resigned about five months after the game.
Fickell was the Buckeyes' interim coach during a 6-7 campaign in 2011. He helped Tressel from 2002-10 and Urban Meyer from 2012-16 at Ohio State.
Saturday's game at Arkansas will be Fickell's first against the Razorbacks since the Sugar Bowl.
Matt Jones contributed